Putri Duyung Dengan Mutiara/Mermaid With Pearls
painting by R.Basoeki Abdullah, oil on linen 1982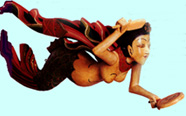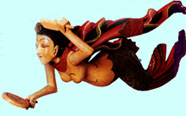 Balinese woodcut

EXILED, BANISHED, BESMIRCHED, DEFILED, OBSCURED AND DISFEATURED. . .
CHERISHED, HONOURED, WORSHIPPED AND MAINTAINED IN THE SOUL OF JAVA!
'Nung, Her nurse observed and watched everything...and the crab wrote it down...
...Just Her name, the Soul of Dèwi Pantai Selatan...
Merely a countless mysteries, hazed and being in a dark mystic mist, do encircle the
Javanese Dèwi Pantai Selatan, Goddess Of The Southern Ocean.
Do you happen to know the murmurring noise in your ear, known as the blood circulation?
Once it was named the enchanting of the Song Of Sirens, the tempting beautiful Mermaids.
Maybe you know about the use of the kteis, the comb, created of mother-of-pearl? And the golden mirror?
The Javanese South-Sea Goddess could be "recognized" by Her "kondé", a coil impossible to imitate!
Like Ariadne and the Amazons whose myths and legends do tell about the use of the hair-pin,
an attribute used by a queen... a distinguished woman... or by a harlot.
An attribute sometimes used as a murderous weapon!?!
All questions will show up a countless number of answerings, which ask for an inquiry into yourself and
for that could be interpreted by yourself. Those questions cann't be asked without further ado!
Like every investigation right into the Inner! Exactly for that reason the myths and legends about the
Dèwi Pantai Selatan radiate with an universal way and do have a circular influence, around!
For the Javanese a symbol of a spiritual, a natural and a female manifestation...
...in nature...and culture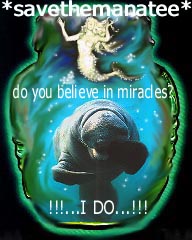 The Javanese mermaid has been "recognized" as the lamentee/manatee, the duyung/dugong-fish
the remarkable see-cow... a rather heavy though movable creature. The "white one" is a sacred one,
her tears (yes, the ikan duyung does "cry") are worked up and used during ceremonial rituals.
One of those rare rituals is special dedicated to the Dèwi Pantai Selatan...
Thanks for visiting this page.