Welcome you all to
TOKOLOKO
The very special place dedicated to the
RATU KIDOEL



© foto by Jan/Roy
At Puerto Vallarta, Mexico, the Dutch Peter & Viola Holt just opened
an Indonesian restaurant with the name of
TOKOLOKO, a very special Temple-place,
dedicated to the Javanese South-Sea Goddess, the Spirit-Queen of The South.
Peter & Viola got married on the island of Bali and Viola took her interests about the
Javanese South-Sea Goddess to the Netherlands.
The well-famous "Lady Announcer" got famous because of her activities on TV
(the Dutch Oprah Winfrey),
their fabulous decorated villa and her beautifull paintings as well.
Once she just vanished and arose along the shore of West-Mexico.
For three years she is living now with her husband Peter at Puerto Vallarta.
Beginning a small restaurant her husband got on a very privat WebSite
about the Javanese Goddess...
...and they decided to open a Temple to the
RATU KIDOEL, the Javanese Southern-Ocean Goddess.
The painting PEMANDANGAN 'NOENG should adorn their Temple
where a special selamatan (traditional Indonesian celebration-meal)
will be served... created by the wonderfull cook Peter himself.
With Nasi Koening!

© foto by Jan/Roy
At August the 13th. the TOKOLOKO-restaurant got opened
in a very traditional Javanese way with a ritual ceremony,
and we prepared offerings to grant to the ocean...
...just at the moment of a beautifull Mexican Sunset...
A path from the ocean to the restaurant got created,
a path where the Spirit-Queen could go, coming ashore,
like on the island of Java, true to tradition custom.

© foto by Jan/Roy
The Goddess will be honoured every day
and especially at noon of the Javanese Selasa Kliwon,...
In a symbolic way Lady Viola, who was born in The Hague, the Netherlands,
and descended from the noble family of Snouck Hourgonje out of Zeeland
where the only Dutch Goddess DEAE NEHALLENIA got worshipped,
got inspired by the legend of the RATU KIDOEL.
Chosen by Nature and assigned by Culture
her name VI-OLA is a tribute to the Uttarabodhi Mudra,
only met with the Japanese An-I-Shoshu-In or the Chinese An-Wei She-chu Yin
...and the wonderfull Venus-sign... or the Pentagram...
This is the V-sign the child Christ made on ancient icons out of South-Russia.
...'Noeng was withness of this sacred universal sign...
of Peace and Love
Yes,... VI-OLA,... HELLO V-...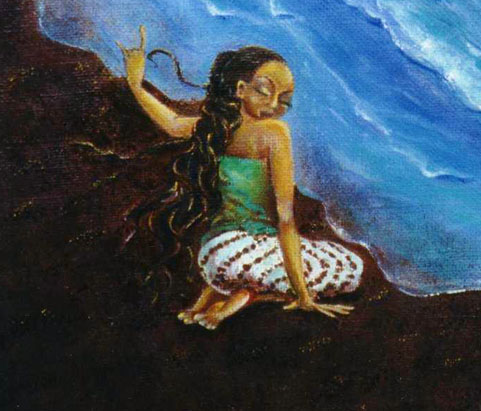 part of painting PEMANDANGAN 'NOENG/View By 'Nung
oil-on-linen 100-80
© Roy James Döhne 1997